Home Buying Strategies For The Changing Market
The Market is Changing and Here is How to Make it Work For You.
Market data for residential home sales in the first half of 2018 for the state of California indicate significant changes and a possible shift in the market but how will this effect home buying and selling in prime areas like Pasadena, Altadena and Eagle Rock.
For several year's California home sellers have been able to price on the high side (and beyond) only to field a flurry of offers resulting in an even bigger windfall post-sale. In fact, I have seen several homes sell for $1000,000 over the originally listed price. This extreme "seller's market" has taken a toll on California home buyers causing many to pause their home buying efforts resulting in some dramatic facts and very strong indicators of the changes to the market.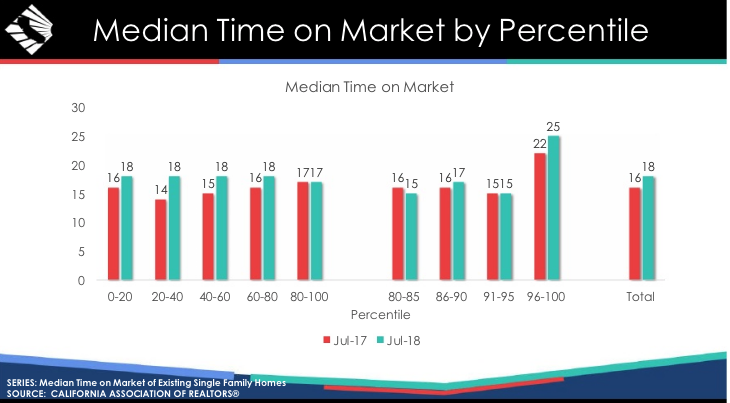 These shifts of dropping sales (less buyer competition), increases in the time it takes to sell a home and an increase in the supply of homes are very positive signs for homebuyers. Home sellers are going to have to be more realistic with pricing and be more eager to make a deal happen but are we seeing these same indicators locally here in Pasadena, Altadena, Eagle Rock and others in LA?
The simple answer: YES
The carousel above reflects data sets for Single Family Home sales under $2,000,000 in Pasadena, Altadena, South Pasadena and Eagle Rock leading up to July 2018.
We do see a drop in average price per square foot, and increase in the number of homes for sale but what is going on behind the scenes is a bigger indicator and the timing can mean a major windfall for you.
As far as a major price crash, it just isn't going to happen. Mortgage rules have people in place that can truly afford them and almost all modern mortgages are not the adjustable rate type we saw back in the early 2000's that caused mass defaults. Pasadena area homes will always be in demand. We will see a leveling off of pricing and values, the analysts predict we won't see major downturns in pricing, but we also won't see major spikes. Real Estate pricing stability is what the future will bring.
The word on the street is listing agents are seeing a lot less offers for each property. This combined with the seasonal drop in prices that we always see in fall and winter is something buyers that have been on the fence should take advantage of.
now you have more leverage for intelligent pricing and a lesser chance of being outbid
There are more housing choices out there right now, mortgage rates are still low and now you have more leverage for intelligent pricing and a lesser chance of being outbid. Here are my four tips on how to take advantage of the current market conditions:
#1 Pre-Approval
The first step in house hunting is not Zillow, it should be your Pre-Approval. Getting Pre-Approved will not only give you an idea of what you can truly afford as a monthly mortgage and what price range of homes you should shop for, but it makes you very valuable to home sellers.
Note that not all Pre-Approvals are created equal. Big banks and online lenders will offer you an instant Pre-Qualification which is virtually worthless when it comes to being taken serious. A true Pre-Approval will include you submitting your back taxes to a mortgage broker who will analyze what you really take home less what you spend on cars and credit cards to come up with a debt to income ratio. There are minimums for this ratio depending on the type of loan you are trying to secure. Note: some Pre-Approval processes are so advanced that the seller has zero concerns if you can qualify or not enabling you to shorten loan contingencies. This makes your offer significantly more attractive to sellers, even if someone that offers more but is not Pre-Approved to an "Underwriting Level".
In a market with less buyer competition, being rock solid gives you tremendous leverage.
#2 Know The Comps
With sellers being forced to come to reality with home pricing, knowing what a homes true value will be key. When you are faced with five offers for the same property, it is all about who wants it more. With only a couple offers on the table, you don't have to bid wildly. Pull recent sold comparables going back 6 months within a half mile to mile of the one you want. Match the number of bedrooms and similar lot and square footage, then adjust for condition or presence of remodeling.
#3 Never Be Outbid Again
Hot properties that are properly priced will draw at least a couple offers. There is a way to intelligently exceed other offers and that is an Escalation Clause. This less often used strategy is akin to eBay bidding. You set an offer price below what your top offer could be. The offer includes verbiage that will increase you offer in the event another higher offer comes in. The increases are in increments you set until a cap is met. For example:
A house you really want is listed for $925K. Comps say it's worth closer to $900K. You offer $850K with an escalation clause that will increase your offer by $1,000 in the event another higher offer comes in with a cap at $915K. To activate the escalation the listing agent will need to prove other written and qualified offers came in over yours.
#4 Get Expert Help For Free
It is often that the clients that I help to buy homes ask me what I charge for my services. I proudly say nothing, absolutely nothing and that is true. A Buyer's Agent is compensated by splitting the commission with the Listing Agent if a transaction closes. If a Listing Agent finds the buyer on their own then they keep all of the commission (referred to as Double Ending a deal).
While some buyers think that dealing with the Listing Agent will get them a better deal, this is just not the case. A Listing Agent has a fiduciary duty to the seller, and most often that is a very engrained relationship that was cultivated over years and equates to subsequent transactions and referrals. Thinking that a Listing Agent is going to sacrifice this prized client to save you $5,000 is preposterous.
Hire a Buyer's Agent that will have a fiduciary responsibility to you and only you. A good one will go the extra mile in ways well beyond finding you properties. A good agent will keep stress at bay, watch out for pitfalls, negotiate a fair deal and make sure you end up with a home you love and a transaction you will rave to your friends about.
For more home buying tips specific to Pasadena and it's surrounding communities, you can get a copy of my 100% absolutely free strategy guide to home buying.
MORE ARTICLES
Michael Robleto
REALTOR®-Compass Real Estate
213-595-4720
michael.robleto@compass.com

Michael Robleto is a Pasadena based REALTOR®. His analytical and open approach to sales and representation have served his clients well in his twenty years of sales experience. Michael is a staunch homeowner advocate that blends compassion with a highly advanced technology-driven approach to the buying and selling of real estate in and around Los Angeles. His client accolades of insight, integrity and hard work support the fact that he is not your average agent.
Michael leverages his personal passion for historic architecture to provide his clients the unknown insight on the pros and cons of older homes. Michael, a California native, grew up in an older Bungalow home and has spent 23 years in Southern California admiring the unique architecture of the region. He often writes on homeownership strategy, historic residential architecture and Pasadena related topics which can be found on Facebook, YouTube, Twitter and Instagram under the common profile name of his blog; BungalowAgent or at www.BunaglowAgent.com/blog.
Michael is a committee member and frequent volunteer for the preservation efforts of Pasadena Heritage as well as a supporter of the Five Acres center for children.